New to MCBC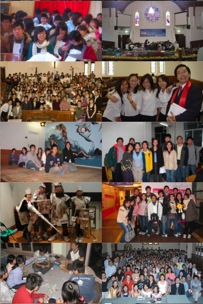 Welcome to MCBC
Welcome to Melbourne Chinese Baptist Church! May this church be your spiritual home.
We have the following services:
English service: Sunday 9:30am (Hall)
Mandarin service: Sunday 9:30pm (Sanctuary)
Cantonese service: Sunday 11:30am (Sanctuary)
There is Shine for Christ (Children Sunday school) going on at the same time as each service. If you have children (up to primary school), you may like to take them to the children Sunday School. Classes are generally conducted in English with assistance provided for children who speak Cantonese or Mandarin.
We also have Fusion (English) youth group for high school students) that starts from 11:30am and finishes at 1:00pm.

Adult Sunday school classes also run on Sunday:
Cantonese Adult Sunday school: 9:30am to 11:30am

Mandarin Adult Sunday school: 11:30am to 1:00pm
Door greeters will hand you a copy of the bulletin when you reach the sanctuary for the service. Please also fill in a brief newcomers' information form, so we may keep in touch with you in the future.

Please also stay behind after the service for morning tea at the church catering area to allow us to get to know you more.
You may contact our administrator if you have any other questions or enquiries.
How to get to MCBC?
Address: 75A Cotham Road, Kew, Victoria 3101, Australia (Melway reference 45 D6)
If you are driving:
Please enter the church's car park via Highbury Grove
Please reserve the three parking spaces closest to the church's back entrance for the elderly and people with disabilities
Please do not park on the driveway to the garage next to the Sunday School Building on Sunday, as it is needed for lunch deliveries
Please do not park on the spaces reserved for the pastor and speakers on Sunday
You may also like to park on the nearby streets as space in the church's car park is limited
Public Transport:
The church is located in Zone 1
Tram routes 16, 24, 48 and 109 are all within close proximity to the church
Bus routes 201 & 207 (City - Doncaster) run along High Street
You can also take buses 200 or 205, and change to trams at Kew Junction
Glenferrie Station is about 1.2km away from the church. It takes around 20 minutes to walk from the station to the church. Alternatively, you can take tram 16 from the station and get off at Kew Terminus.
If you are travelling from the city: Take Tram 109 at Collins Street towards Box Hill, and get off at stop 36. The journey takes around 25-30 minutes.
Church location:
Church sanctuary and hall: English, Cantonese & Mandarin services
Church Sunday School building: Children's Sunday School